Equestrian Services
Mobile Services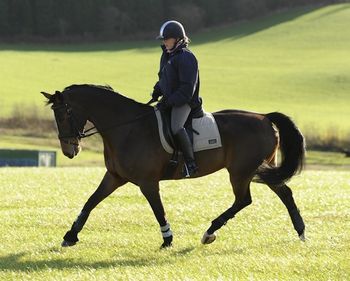 As a Professional Groom I can offer a variety of services either on an ad-hoc or regularly basis, to suit each client's requirements. I cover areas from Ludlow to Far Forest, and Bromyard to Burwarton.
Happy to help with equines which demonstrate challenging behaviour, aiding the owner to understand the cause, and develop a plan to help the horse become happier and more content, and thus reduce the undesirable behaviour.
Roles undertaken are;
All yard duties
Holiday cover
Schooling
Lunging
Competition/hunt preparation
Help at competitions
Clipping
Hacking
2nd opinion on a potential purchase
Teaching – nervous and novice riders.
I have many client's which I have been working with for years, some have been kind enough to express this in a few testimonials;
Breeding Services

I have two foundation mares 'Bereford Fox' and 'Chaneira', both of which are producing quality competition youngstock.
They are all confident with athletic movement, so should excel in any sphere.
The eldest is rising three and ready to further his education, he is a very exciting prospect and will be directed towards Eventing after receiving a good foundation on the flat.
Horses and youngsters which are for sale will appear on Facebook with full details, alternatively please contact me directly.
Bereford Fox (GB) - stable name Berry
Thoughbred Registered with Weatherbys by Nearly a Hand out of Kite's Nest (by Nicolas Bill).
Berry is a fantastic broodmare, a natural with her foals and passes on her calm laid back friendly nature. Her offspring should go on into any sphere, they do have an Eventing stamp, with a lovely ground covering canter.
Chaneira
Registered Verdand der Zuchter des Oldenburger Pferdes e.V.
Graded with the Sports Pony Studbook Society 14/12/07
Imported as a four year old, Chaneira was trained and produced professionally, before an unfortunate accident stopped her ridden career. Despite this Chaneira's career as broodmare appears to be very successful, passing all her fantastic qualities to her foals.